1-855-993-0499 - Ask us about our special offers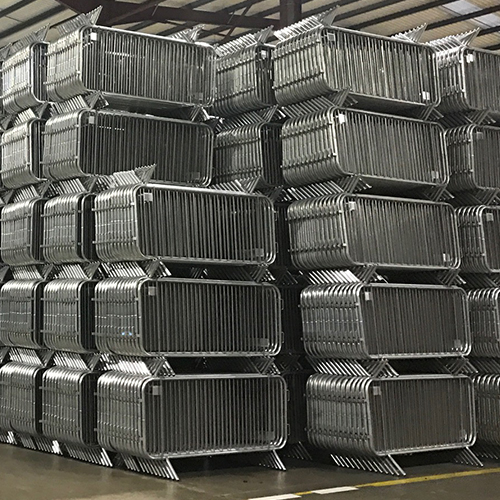 Lift of Barricade Fence Panels
Quantity: 25 Panels
Designed to provide an effective demarcation solution. With robust tubular steel frames, designed safety features combined with our rigorous testing for our barriers to give you the quality and reliability you need. Products that offer you better performance, strength and safety through innovation and state-of-the-art manufacturing techniques. Unparalleled testing processes of rigorous quality checks ensure only the most reliable products reach you and your customers.
Ready for immediate shipping!
There's no need to ever worry about our inventory because we always have plenty of stock on hand, ready to ship at a moment's notice. From our yard to yours, our trucks take the fencing you need exactly where it needs to go—your project. A successful project is a safe project. So, be prepared with Broadfence.
ORDER CODE- BFBRC
Panel size
43" high x 7.5' long
Foot
Fixed – rounded for safety
Bar Spacing
4"
Panel weight
23.5 Lbs.
Foot weight
Included
Clip Connection
Integral Hook & Eye System

Panel Frame

Vertical Bar

1.5" round tube 19 gauge

1/2" round tube 22 gauge

Quantity per lift

Surface Protection

25

Galvanized
"We like the service, we like the fencing, so we know who to call if we need any more!"
- William, General Contractor in Hamilton
"This is a wonderful product, It's a very nice product, it's flexible and workable, you can do tons of things with it and it makes life easier. So I am recommending it for other contractors."
- Jalal, Contractor in Pompano Beach, FL
"The price and shipping cost was the best in the state. We had great experience with their customer service and will definitely be re-ordering from Broadfence."
- General Contractor from Denver, Colorado
"I should said that your service was amazing and I am extremely happy with this. Your prompt communication and going the extra mile for the customer is something that is very rare to find this days.
I would definitely will contact you for any fencing or other products that you have in the future."
- Gus B.
Call/Fax
P: 1-204-272-6113
TF: 1-855-993-0499
F: 1-855-483-2953
Address
USA
P.O. Box 108
1238 Anderson Rd.
Clawson, MI  48017
CANADA
#1 Limestone Drive,
Stonewall, MB