1-855-993-0499 - Ask us about our special offers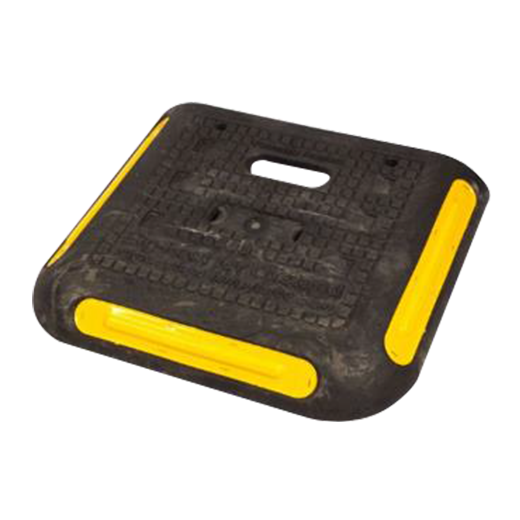 BroadFoot
Forget messy sandbags and heavy concrete blocks! The Broadfence Broadfoot fence weights were made to do the job with easy installation and no mess. These 100% recyclable plastic temp fence weights fit easily over standard temporary fence stands, and their low-profile, high-visibility yellow accents reduce trip hazards for pedestrians passing your job site.
Ready for immediate shipping!
There's no need to ever worry about our inventory because we always have plenty of stock on hand, ready to ship at a moment's notice. From our yard to yours, our trucks take the fencing you need exactly where it needs to go—your project. A successful project is a safe project. So, be prepared with Broadfence.
ORDER CODE- BFBFT
| | |
| --- | --- |
| Product Dimensions | 22″ long x 24″ wide |
| Height | 3″ |
| Weight | 33 lbs. |
| Material | Thermoplastic Compound |
| Color | Black with Hi-Vis Yellow Inserts |
| Quantity per Stack | 72 pcs. |
More Benefits
Low profile reduces trip hazards
High-visibility edges or inserts
Fits securely on standard temporary fence stands
No installer decisions required: the weight will always sit in the correct position
Stacks securely for transport and storage
Comfortable carrying handholds: 1 person carries 2 BroadFoot
No debris remaining after using BroadFoot
Easy to transport
Made from recycled plastic
"This is a wonderful product, It's a very nice product, it's flexible and workable, you can do tons of things with it and it makes life easier. So I am recommending it for other contractors."
- Jalal, Contractor in Pompano Beach, FL
"I should said that your service was amazing and I am extremely happy with this. Your prompt communication and going the extra mile for the customer is something that is very rare to find this days.
I would definitely will contact you for any fencing or other products that you have in the future."
- Gus B.
"The price and shipping cost was the best in the state. We had great experience with their customer service and will definitely be re-ordering from Broadfence."
- General Contractor from Denver, Colorado
Have a Question or Require a Quote?
Call/Fax
P: 1-204-272-6113
TF: 1-855-993-0499
F: 1-855-483-2953
Address
USA
P.O. Box 108
1238 Anderson Rd.
Clawson, MI  48017
CANADA
#1 Limestone Drive,
Stonewall, MB