1-855-993-0499 - Ask us about our special offers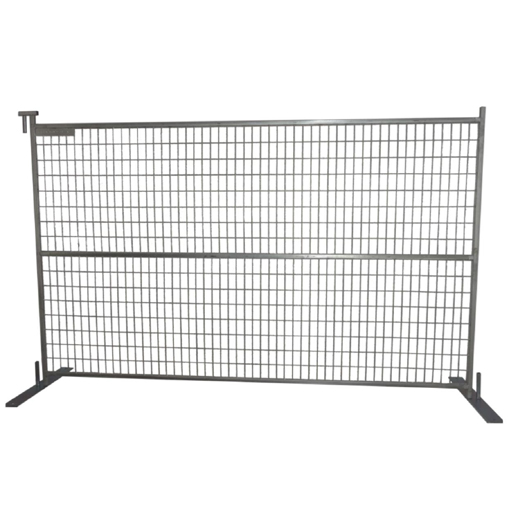 Temporary Fence Panels – 8 Ft
Designed for boundary and security solutions. A simple 'hook' connector and solid rod feet make these 8ft fence panels ultra-easy to install & take down. 10ft long and 8ft high without clamps, bolts or wrenches needed to quickly install your site perimeter fence to simply and safely secure your job site. Call one of our representatives toll free at 1-855-993-0499 
Request a quote for temporary 8ft fence panels below by entering length of fencing required in linear feet.
Ready for immediate shipping!
There's no need to ever worry about our inventory because we always have plenty of stock on hand, ready to ship at a moment's notice. From our yard to yours, our trucks take the fencing you need exactly where it needs to go—your project. A successful project is a safe project. So, be prepared with Broadfence.
ORDER CODE- BFS95
| | |
| --- | --- |
|  Panel size | 8 ft. high x 9.5 ft. long |
| Foot dimensions | 4" wide x 32" long |
| Mesh opening | 2" wide x 4" high |
| Panel weight | 41 Lbs. |
| Foot weight | 10 Lbs. |
| Top clip weight | 2 Lb. |
| Quantity per lift | 84 |
| Surface Protection | Galvanized |
"We like the service, we like the fencing, so we know who to call if we need any more!"
- William, General Contractor in Hamilton
"This is a wonderful product, It's a very nice product, it's flexible and workable, you can do tons of things with it and it makes life easier. So I am recommending it for other contractors."
- Jalal, Contractor in Pompano Beach, FL
"The price and shipping cost was the best in the state. We had great experience with their customer service and will definitely be re-ordering from Broadfence."
- General Contractor from Denver, Colorado
"I should said that your service was amazing and I am extremely happy with this. Your prompt communication and going the extra mile for the customer is something that is very rare to find this days.
I would definitely will contact you for any fencing or other products that you have in the future."
- Gus B.
"I will admit, when the fencing first arrived, we were a little skeptical and unsure if it was the right choice, but once the superintendent started installing it, he has been singing its praises since. It looks sharp, is easy to install, and it stacks great for shipping. He even pulled our CEO aside and was showing him how much he liked the fencing.
As we have been using your temp fencing on one of our projects, we have really liked it so far. This is something I would like to advise the other Project Managers in our company on."
- Nolan - Orem, UT
Have a Question or Require a Quote?
Call/Fax
P: 1-204-272-6113
TF: 1-855-993-0499
F: 1-855-483-2953
Address
USA
14250 Judicial Road,
Burnsville, MN
CANADA
#1 Limestone Drive,
Stonewall, MB